Goblin Valley State Park, UT
by Chih Kwan Chen, Oct. 30, 2009
Goblin Valley State Park is located between Hanksville and I-70 along Route 24. We started from US-89, turned into Route 12 toward the junction with Route 63 that goes into the heart of Bryce Canyon National park. Passing the junction, Route 12 East passes Tropic, Cannonville, Escalante, Boulder, and ends at Torrey where it joins Route 24. From Torrey toward east, Route 24 passes Capitol Reef National Park, and reaches Hanksville. At Hanksville Route 24 turns 90 degree toward north and will reach I-70 eventually. The road to Goblin Valley State Park branches off toward west at the middle point between Hanksville and I-70. When we made the trip in October of 2009, the first portion of the road toward the park is under active construction to turn it into a paved road. The second portion has been paved already. By the end of 2009 the whole road to the park should be paved.
At Hanksville we only see three gas stations, though AAA tour book says that there is a one star motel. It should be careful at the junction with Route 95. The easy way is to get on Route 95 that will lead one to the south-eastern part of Utah. To follow Route 24 to the state park, a left turn must be made. At the junction there is a Phillip 66 gas station. Its store is built entirely inside a rock, a unique gas-station store indeed.
At the entrance of Goblin Valley State Park, there is a self-paying station. Pull out an envelope, deposit the fee, writing down some vehicle information, sealed it and drop it into the designated box. There should be a slip that can be torn away to serve as the receipt. The paved road to the park ends at a large parking lot with facilities and picnic tables. From the parking lot, one can already view the entire valley. The valley is like 50 feet below the parking lot. One can follow an easy trail down to the valley and play among numerous goblins. During daytime, those goblins are fun to look at, but it is said that after dark, the valley becomes very spooky. The park is in the setting of a desert so it can be very hot during summer and even fall. Some pictures of the park are included below.
Welcome to Goblin Valley
Goblin guards watching over ordinary goblins
So many goblins!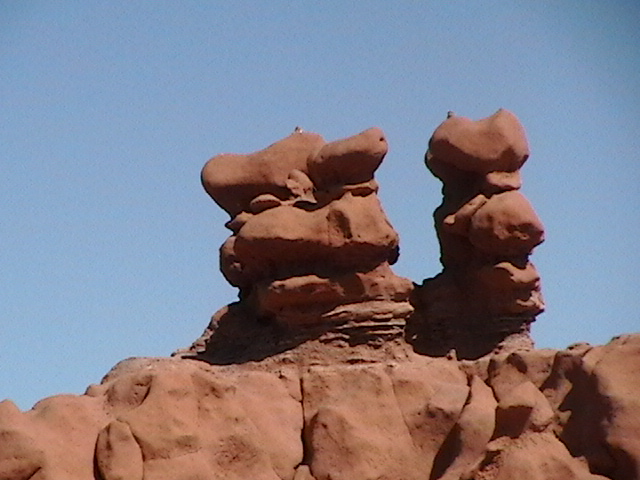 Three heads are better than one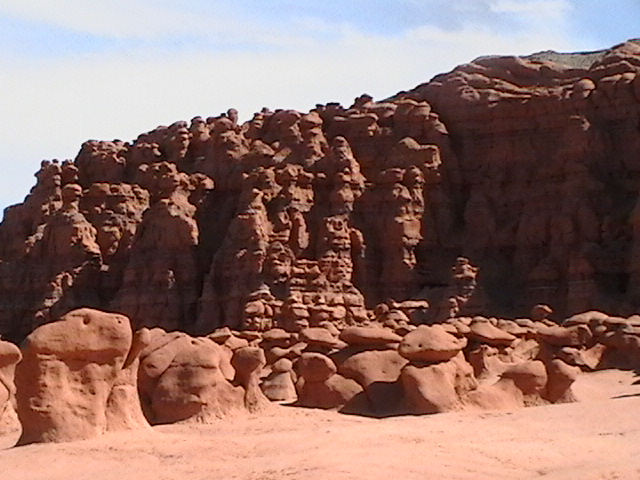 A close up view of the guards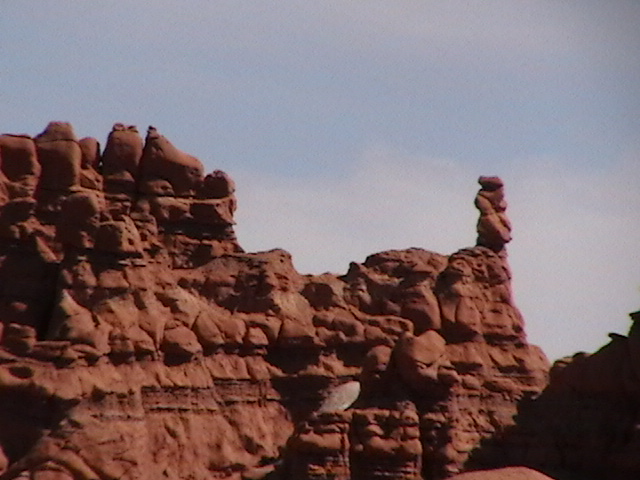 A lone goblin scholar?
Gossiping is contagious, even among goblins
Funny face
Farewell! From Chief Goblins with love.